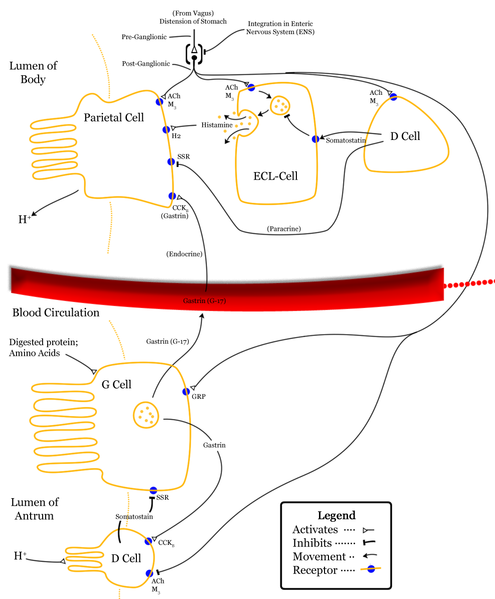 Cholecystokinin is a peptide hormone of the gastrointestinal system responsible for stimulating the digestion of fat and protein. Cholecystokinin, previously called pancreozymin, is synthesised by I-cells in the mucosal epithelium of the small intestine and secreted in the duodenum, the first segment of the small intestine, and causes the release of digestive enzymes and bile from the pancreas and gallbladder, respectively. It also acts as a hunger suppressant. Recent evidence has suggested that it also plays a major role in inducing drug tolerance to opioids like morphine and heroin, and is partly implicated in experiences of pain hypersensitivity during opioid withdrawal.
Model for regulation of the hindbrain response to satiety signals by hormonal input from the ARC. Adiposity signals such as insulin and leptin circulate in proportion to body fat mass and act on hypothalamic ARC neurons that project to hypothalamic areas such as the LHA (not shown) and PVN. In turn, these "second order" neurons project to hindbrain autonomic centers such as the NTS that process afferent input from satiety signals such as CCK. Input from descending, leptin-sensitive hypothalamic projections is integrated in the NTS with vagally mediated input from CCK, such that the timing of meal termination is regulated by changes in body fat content. Modified with permission from Nature GI, gastrointestinal.
Morton G.J., et al. J Clin Invest. 2005 March 1; 115(3):703–710.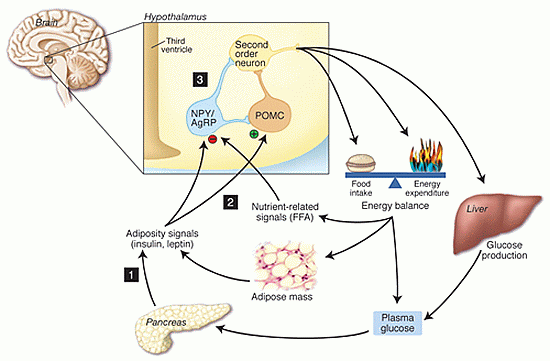 Neurocentric model depicting sites where defects in the negative feedback regulation of energy balance and glucose production predispose to weight gain and insulin resistance. Defects in the secretion of insulin or leptin (1), in the hypothalamic sensing of adiposity- or nutrient related signals (2), or in the neuronal responsiveness to these inputs (3) predispose to both positive energy balance and increased glucose production. If sustained, these will result in pathological weight gain and insulin resistance.
Schwartz MW, Porte D Jr. Diabetes, obesity, and the brain. Science. 2005 Jan 21;307(5708):375-9