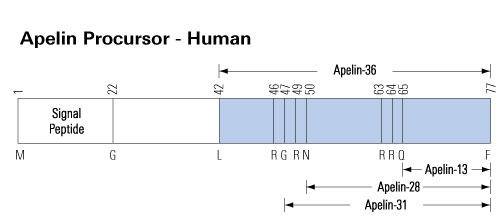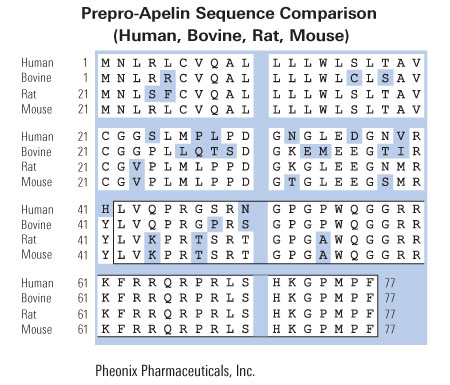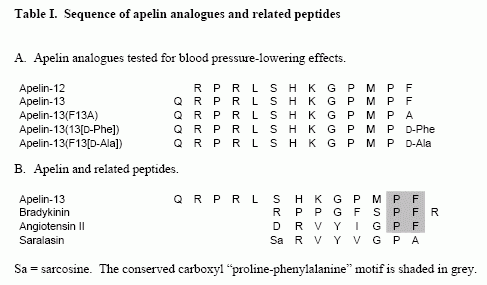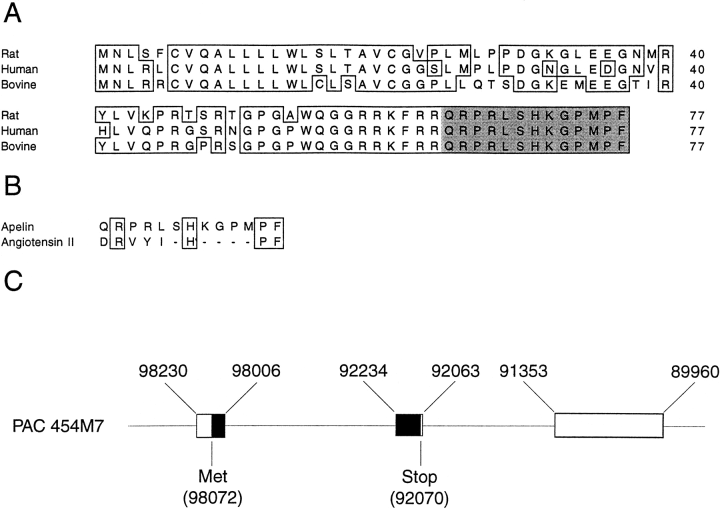 A: An alignment of amino acid sequences of rat preproapelin with human and bovine preproapelin. Conserved amino acids are shown boxed. The mature apelin peptide is shaded. Numeric amino acid positions are indicated on the right. The GenBank accession numbers for rat and human preproapelin are AF179679 and AF179680, respectively.
B: An alignment of amino acid sequences of human apelin and angiotensin II. Conserved amino acids are shown boxed. C: The genomic structure of the human preproapelin gene as found in the human PAC 454M7 clone (GenBank accession no. AL022162). Nucleotide positions of PAC 454M7 defining preproapelin gene exons (boxes) are shown at the top. The ORF is shown in black, with the nucleotide positions of the start and stop codons shown at bottom.
Lee et al. J Neurochem. 2000 Jan;74(1):34-41.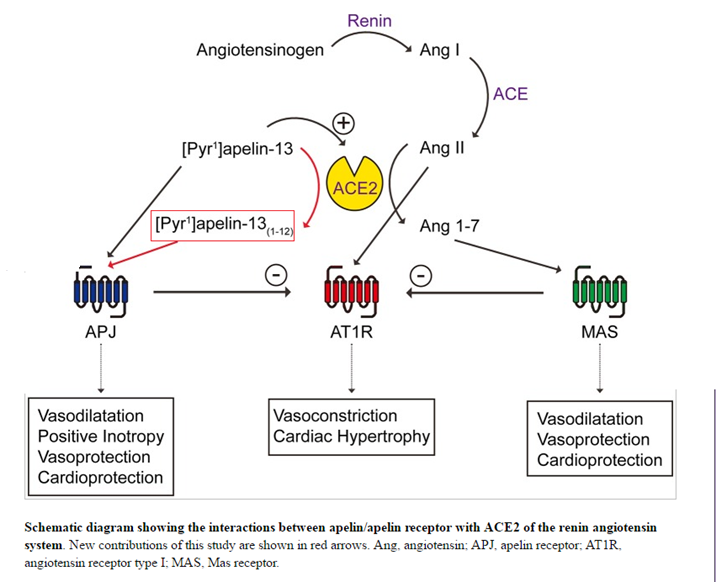 Apelin is an endogenous ligand of the human orphan receptor APJ (orphan G protein-coupled receptor). This peptide is produced through processing from the C-terminal portion in the pre-proprotein consisting of 77 amino acid residues and exists in multiple molecular forms. Although the main physiological functions of apelin have not been clarified yet, it has been demonstrated that apelin partially suppresses cytokine production from mouse spleen and, specifically, induces the promotion of extracellular acidification and inhibition of cAMP production in Chinese hamster ovary cells. Moreover, it is involved in the regulation of blood pressure and blood flow.
Binding Characteristics of [

125

I]-[Pyr

1

]-Apelin-13 in Human Heart Tissue

Left Ventricle

0.35±0.08

4.3±0.9

Right Atria

0.33±0.09

3.1±0.6

Distribution of APJ Orphan Receptor in Human Cardiovascular Tissue

Heart (LV & RA)

Coronary artery

Aorta

Saphenous Vein Grafts

Distribution of APJ Orphan Receptor in Rat Tissues

Tissue

Binding Density of [125I]-[Pyr1]-Apelin-13 (autography)

Cerebellum

Lung

Heart

Kidney Cortex

Katugampola et al. Br J Pharmacol. 2001 Mar;132(6):1255-60.