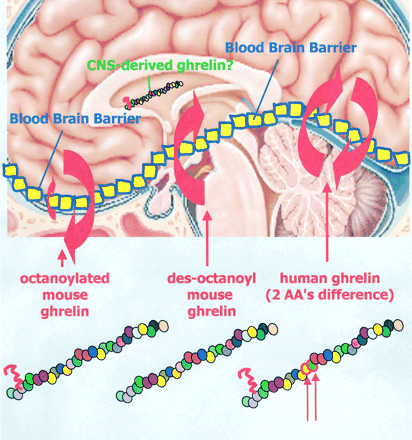 Ghrelin enables the stimulation of growth hormone release and control of energy balance.
Differential transport of mouse ghrelin, des-octanoyl mouse ghrelin, and human ghrelin across the blood-brain barrier in mice. Although octanoylated (bioactive) mouse ghrelin crosses the mouse BBB predominantly in the brain-to-blood direction, passage for des-octanoyl mouse ghrelin was observed only in the blood-to-brain direction. Human ghrelin, which differs from mouse ghrelin by two amino residues only, was transported in both directions in mice. The extent and direction in which the ghrelin can cross the BBB is therefore influenced by at least two features of its primary structure, its post-translationally added fatty acid side chain and its amino acid sequence.
William A. Banks, Matthias Tschöp, Sandra M. Robinson and Mark L. Heiman. THE JOURNAL OF PHARMACOLOGY AND EXPERIMENTAL THERAPEUTICS. Vol. 302, Issue 2, 822-827, August 2002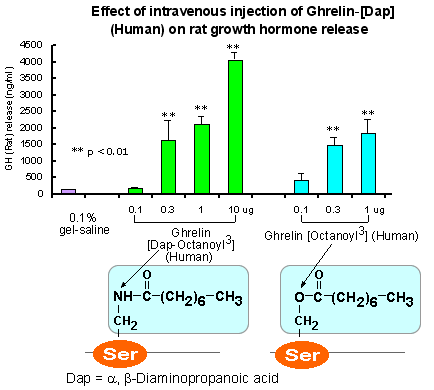 Serum Ghrelin-ir in SD Rats: 1.26±0.14 ng/ml and the fasting SD Rats: 2.86±0.28 ng/ml (non-extracted)1;Plasma Ghrelin-ir in lean Caucasians: 155±25 fmol/ml and obese Caucasians: 106±23 fmol/ml2.
Lean Caucasians
Obese Caucasians
Lean Pima Indians
Obese Pima Indians
n
7
8
7
8
Sex-Female
3
4
3
4
Sex-Male
4
4
4
4
Age (Years)
32±11
30±7
33±4
32±5
Body weight (kg)
71.4±9.8
109.8±16.8
70.3±9.6
109±15.2
BMI (kg/m2)
25.4±2.3
38.2±4.8
24.0±1.9
37.9±6.6
Body fat (%)
22±9
35±7
24±7
35±5
Plasma Ghrelin (fmol/ml)
155±25
106±23
95±13>
80±36
Plasma Glucose (mg/dl)
87±7
91±4
89±6
95±7
Plasma Insulin (uU/ml)
4±3
10±3
6±3
18±10
Plasma Leptin (ng/ml)
8±7
53±47
10±9
35±27
Tschöp, M., et al. Diabetes 50, 707-709, 2001